Carol and Amy here, coming to you from sunny San Diego, California.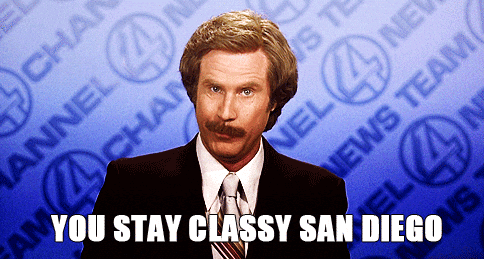 It is true what they say - it is always sunny and 72 degrees in San Diego. Carol is enjoying the warmth of California while Amy is happy to have escaped the 90 degree heat in Chicago! We are beyond excited for the RWA 2016 Conference to begin. But when you come to San Diego, you have to make one special trip ... to the zoo!
So, before the conference began we visited the amazing San Diego Zoo. And boy, did we meet some colorful and interesting characters. Let's meet our new animal friends.
You have to wait in line to enjoy some time with this furry fella. The giant pandas are a huge attraction at the zoo. The zoo keeper in that area had some extremely unnatural fire truck red hair and kept telling visitors to be quiet because unfamiliar noises bother the pandas as they are very sensitive. Apparently, her yelling in her microphone to be quiet and to keep moving is something this panda is quite used to hearing because he just kept on eating!
Flamingos are one of the most unusual birds we have ever seen. This guy was showing off his yoga poses, standing on one leg with his beak to the ground like this for several minutes. Thanks to Anna J for this stunning picture of what Melinda Curtis named the "Downward Flamingo pose".
Next up is one of our favorites. The humongous tortoise in this picture decided to take a dip in the pool while we were standing nearby. These guys seriously move like they are giant animatronic machines. He lumbered into the pool, took a big gulp, and moseyed on out at a leisurely pace. We completely understand now why the infamous hare was so cocky about winning the race!
Lastly, Carol wanted to share a picture of this gorgeous macaw. Isn't he pretty? Amy thought so too, but don't let his colorful feathers fool you! This bird is psycho. While Amy and some others were peacefully admiring him, he decided to squawk at the top of his lungs and scare the living daylights out of her and the poor, helpless child who was standing beside her. And just when Amy thought she was a safe distance away from this terror, the bird went insane once again, causing Amy to flee the area for her life (much to the delight of her companions). It appears her friends think it is hilarious when Amy believes she is going to be attacked by wild and evil birds. Thankfully, none of this was caught on video. Carol might not have ever stopped laughing if she could have relived that moment over and over.
In the end, we survived the zoo and really did have an incredible time. We're ready for the conference to begin and can't wait to spend the rest of the week with our Heartwarming sisters.
Tell us your favorite zoo animal and Amy has a copy of her July book,
The Girl He Used to Love
, for one lucky commenter (print copy US/ebook INT). She will announce the winner on Saturday July 23rd in her Sit Down Saturday post!