Helen and I talked about new beginnings for this month's post. She has places to go--and I surely love them, too--but my new beginning for autumn is in the same place I began something a gazillion years ago, back before learned to read.
After I saw The Bucket List with Jack Nicholson and Morgan Freeman, I did what everyone else did and made my own list. It was in my head, mostly, except for when I told someone what was on it, which explains how I went parasailing and rode a huge enclosed Ferris wheel one summer.
I retired over five years ago, so the last thing on my bucket list or anyplace else was a job, but then one opened up in the local library. A part time one.
Even thinking about it made me breathless. I have spent countless hours in libraries since I sat at the little kids' table in the library in Akron, Indiana--there was only one table--and looked at picture books while my mother got her weekly stack from the grownups' side.
So I added the job to my mental bucket list and filled out an application. "I won't get hired," I told my husband. "I don't want to work very many hours." Well, guess what. They wanted someone who didn't want many hours!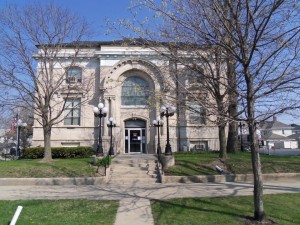 It is so much fun. I get to handle books and talk to people about them--including saying, "If you're looking for wholesome romance, try Heartwarming." I get to watch kids become involved and show them how to learn things because, in all honesty, every thing they ask me is something I have to look up!
If I have downtime, I get to pop my zip drive into my computer and work on the WIP for a little bit. It's not the first time I've ever written in a library, nor will it be the last. Working in one has only increased my appreciation for libraries as places that give and never take.
Now then, the new releases are right there. Adult fiction is on this floor. You'll need to go downstairs to the children's section. Restrooms? Of course. If you enjoyed him, you'll probably like her, too. You knew Catherine Lanigan lives right here in Indiana, right? Thanks for coming in. Have a good reading day.
The old folks down home called me fiddle-footed, always eager to ramble, to see what was on the other side of the fence or beyond the tree line or over the horizon. Maybe it's in my blood; my father was a railroad man and my aunt joined the Navy to see the world. Maybe it was the train whistle wailing across the back of my grandfather's farm in the middle of the night.
Sometimes I fantasize about gassing up my F-150 and heading out, who knows where? West would be good – I love the scope and colors of the Southwest, and the Great Plains have their own magic somewhat like the sea. South would work as well. Not Florida – too many golf carts and plastic flamingos – but the softness of Georgia's little coastline, so different from the hard clear light and lines of coastal Maine, entices me as well.
New Hampshire has it all – mountains and seacoast and Boston only an hour down the road. I love my house where I've lived for nearly forty-five years, my garden and especially the view from my kitchen window where I might see deer or wild turkeys or fox trot by. But flutter a road map under my nose and I'll follow without a backward glance.