by Helen DePrima
March 17 – luck of the Irish. My birthday. Sad to tell, my mother never awoke from anesthesia, as much a victim of World War II as any Gold Star man or woman. Her regular doctor was away serving his country, leaving older colleagues, sometimes with outdated skills, to hold the home front.
Having a large extended family to raise me, committee style, was my good luck. My mother's kin gave me food, shelter, and limitless love, while my father spent every Sunday with me. He taught me to fish and shoot and handle a canoe; he paid for things not in my grandparents' budget, like summer camp and violin lessons. He also took me along on his numerous business trips; by the time I was ten or so, he had risen through the ranks of the L&N Railroad to rate a private car, a rare treat in itself. Along with sitting on the rear platform watching the rails spool out behind the train, I absorbed how my dad treated every railroad employee, from the porters and waiters to the company president, with the same courtesy and respect. His example taught me that there's no such thing as a lowly job, a lesson that stood me well as I cleaned houses, picked grapes, and worked the mothers' shift at MacDonald's.
I guess we've all had both good and bad luck in our lives, but I feel fortunate now in my 70's to have reasonable good health and no financial worries. I've met wonderful people along the way and enjoyed the thrill of sail planes and salt-water sailing, of hiking the high country and facing down a cantankerous mama cow nose-to-nose with my horse. And with more luck, I'll keep on adventuring.
by Liz Flaherty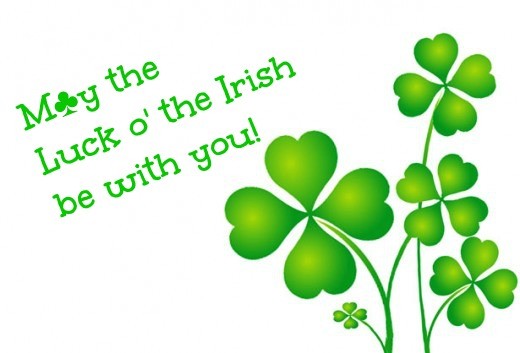 Helen suggested we write about luck this month because St. Patrick's day will be upon us in just a couple of days and we've all heard about the luck o' the Irish. Being Irish—although not quite as Irish as my last name indicates—you'd think I'd be comfortable with that. And I am.
Except that I'm not sure how I feel about that word. Luck.
I do remember in my sullen adolescent days feeling as if everyone but me was lucky. During that twelve or so years between eleven and sixteen my mother may have mentioned once or twice or a hundred times that we make our own luck and it was time I got started.
The roommate and I have been married forever. We like it that way--except for the days we don't. People tell us a lot about how lucky we are. And we are. But we work at it. It wasn't a situation that we spun a wheel and landed on.
My boys were athletes in high school. They heard a lot about luck, too. As an admittedly biased parent, I thought it had more to do with skill and hard work, but what did I know?
But then there's the fact that I don't buy lottery tickets. Not only because I'm cheap but because I'm…yeah, not lucky. I've played Bingo at every Catholic church picnic I've ever attended—my last name should tell you there have been several of those—but have never won a game. Not. A. Single. One. I'm good at Scrabble and Trivial Pursuit, but I never win either one. I never bother saving raffle tickets (the ones I buy at those church picnics) because I know the winning number is the person who bought their ticket right after me.
But then…
I survived not only my own adolescence--so did my mother—but our kids' teenage years as well. I'm pretty sure I said, "You make your own luck, so get started," a thousand times through the growing-up years of our three. But they did a great job with the growing up. They amaze me as adults.
And then there's the roommate. It's okay with me if people think it's been luck. If that's what it takes (along with that work I mentioned) to stay in our particular dance, I'll buy a ticket for that.
I loved high sports and watching our kids participate in them. One of them has knees that still talk to him about basketball. His brother has a shoulder that reminds him of throwing a football. But as good as the memories are, that's all they are. Their real lives are their wives and families and where they are now. I think that's a lucky thing.
Of course, there's still the tickets and game thing. I'll probably never win and I'm okay with that. The fun is in the playing, right?
Happy St. Patrick's day, everyone. I wish you all the luck o' the Irish.