by Helen DePrima
I wonder how many writers act out their secret (or not so secret) wishes in their work. I certainly do. Because my teenage dreams of living in Colorado didn't work out as planned, I've indulged my wishful thinking by setting my first four books in locations I've visited and loved. For my first novel, I returned to the ranch where I spent happy summers during high school, finding it almost unchanged over the decades, to soak up sensory impressions and practical knowledge about ranching in northern Colorado. My Cameron's Pride series takes place in southern Colorado, near Durango and Mesa Verde, another area that calls me back.
I've lived in New Hampshire for more than forty years, but as much as I love the White Mountains, the rocky coast line, and our proximity to Boston, it will never be home the way Kentucky is to me. I grew up surrounded by extended family, living with my grandparents, with aunts and uncles and cousins galore. The last of the elders have gone, but I miss hanging out with my cousins and gathering for holiday celebrations. Despite the humidity and tornado alarms in summer, the grey winters with occasional ice storms, I'd move back in a heartbeat, given half the chance. I stalk the real estate listings in my favorite Louisville neighborhoods, lusting over homes I'll never occupy. Since I can't have one special house I discovered, I've given it to a character in the book I'm currently writing, complete with its own poignant story line.
My fantasies probably don't jive with the healthiest state of mind, but I wonder if writing fiction doesn't require a certain degree of yearning, of discontent, to reach out beyond the realities of here and now. At least, that's what I tell myself.
by Liz Flaherty
I must admit, when Helen suggested the topic for today's post, my mind went pretty blank. While this isn't that unusual, it did irritate me at myself—it's happening too often these days! But living out fantasies? I just couldn't imagine it.
But then she mentioned Louisville, where my husband's from. He lived there until he was 15, and we visited it regularly until his father passed away in 1991. Then again when some of our kids lived in Southern Indiana, but sometimes drove across the river to work. My daughter-in-law, a structural engineer, still points out "my building," visible from the highway.
My husband, the teetotaler, comes from a long line of bartenders. The six Flaherty brothers tended bar at the Brown Hotel until some of them bought the Essex House and still more opened Garland Flaherty's Tavern and, later, Flahertys Three. Flaherty is an unusual name where we live, but Louisville is full of them—most of them related!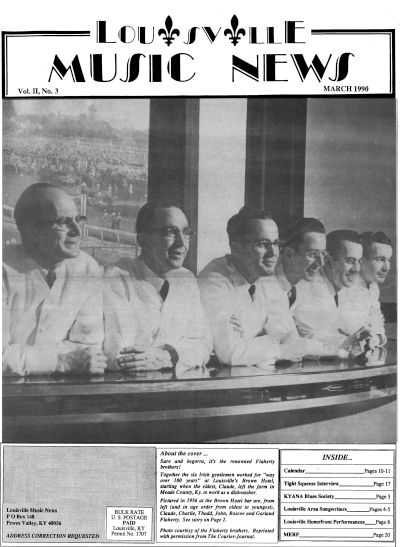 On the other side of the climate coin, another set of our kids lived in Vermont for 15 years. The first time I drove into St. Johnsbury, I knew I was home. As happy as we were when they moved back to Indiana several years ago, I still miss having a reason to visit Vermont.
And that's where
Back to McGuffey's
came from. Why else would I write an Irish pub in the middle of Vermont's Green Mountains?
Writing about these things makes me remember so much. Calling my mother-in-law to ask her what glasses to use for what drinks.
If you're busy, use whatever's clean.
Taking the Bardstown Road exit in Louisville and waving at the Essex House billboard as we came off the highway. Driving through a picture postcard in Vermont no matter what season it was. Even sitting in pubs in Ireland whose ambiance gave birth to McGuffey's convivial atmosphere.
I've written tearooms in Indiana, a quilt shop in Kentucky, a sock shop in Maine, and a couple of bookstores. Yeah, fantasies all. You were right, Helen.