When I first started writing romance, there was a list of
don'ts
for writers. I'm not sure, but I think I taped the list over my computer beside my note from Muriel Jensen admonishing me, "Don't give up. Don't ever give up." On this list of the forbidden were things like acting or musician protagonists, sports-oriented stories, older heroines, physically flawed heroes
or
heroines, or overweight people. No one was a geek. (Boy, did I take that one personally.)
I remember that no one drove American cars--which I never have figured out. No one was a blue-collar worker unless they were functionally illiterate as well. Waitresses were all destitute. In steamier stories than we write here at Heartwarming, no one had morning breath or used birth control or...well, other things.
Much of this, other than our actual series guidelines, wasn't actually written down. There was no real book of rules. We just knew. And in those days, anything that had the word
issue
attached to it was a no-no. Romances were to be what way too many people had referred to as "light fare."
But things have changed. We have entire series based on sports now. A guitar is as at home in a story as a law degree. There's nothing wrong with being a mechanic or a waitress or a retail associate. There's room in the industry for all ages, all sizes, and all ethnicities.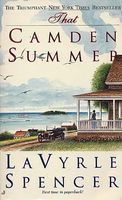 And we talk about issues now. Because of my family history, breast cancer has been a player in more than one of my books. So has depression. The first time I read about seasonal affective disorder, it was in a Jackie Weger book. In
That Camden Summer
, LaVyrle Spencer wrote horribly and wonderfully about rape.
Many Heartwarming authors have written about issues and I hope they will list them here in the comments. Because they've also written about the hope that rises from confronting those issues in the romantic journeys we want our books to be.
To start the list, the heroine in my December book,
The Happiness Pact
, suffers from clinical depression and anxiety disorder. I hope I did it right and that you will like and understand Libby's story. And all of our other stories that address issues that are important to all of us.
Thank you for reading. Have a great week.
P.S. Speaking of issues, Breast Cancer Awareness Month is nearly over. If you haven't made your appointment yet, go ahead and call--we'll wait here.
Liz Flaherty